"... With Rolling Hills, Tumbling Creeks, and Beautiful Oak Trees, This is where the Bulldog May Roam....."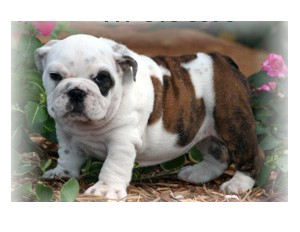 We are a huge supporter of Kong Rubber Dog Toys for our English Bulldogs! Highly durable, lasts a long time and several selections to choose from at your local pet store. Please choose your size wisely based on your pets needs.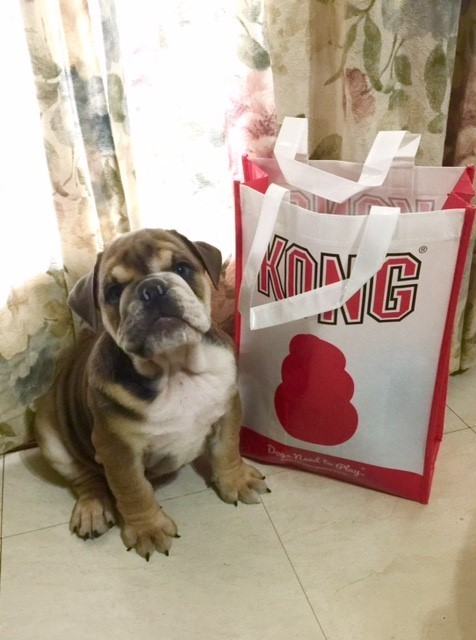 Customers have asked what I feed here at my Kennel. I've have tried numerous brands in the 20 years I've been breeding. I will say Nutro has been one of my top choices in pet food for bulldogs. Free of Corn, Wheat and soy which helps eliminate skin problems. However as I have so many "mouths to feed", this was not a beneficial option for me. I found a great branded food which I, so far have loved. I have decided to go back to the Victor Hi Pro food for my pregnant moms and little babies at weaning as they seem to do best on it and it is an affordable choice. I feed the Teal Bag (Hi Pro) as it is an ALL life stages option so our pups and mommas can all eat the same thing. The diet is free of corn, wheat and soy, and using only healthy grains, but they also offer grain free specific diets as well. Keep in mind, some grains aren't bad. There are Healthy grains and unhealthy grains, so going totally grain free isn't always the best.
The rest of my kennel adults are fed the Black Bag of Valu-pak. Believe it or not it is FREE of corn, wheat, soy and gluten free. There are other flavor options within this brand that is NOT free of corn so check your labels. My bulldogs do not do well with Corn/wheat in their diet as it causes them to blow their coats all year. ​ ​​​​
A little about ourselves: I am an Oklahoma State Licensed Breeder (License #390) as well as an AKC inspected and supported Breeder of English Bulldogs and have been breeding for over 26 years. I am proudly inspected by the State of Oklahoma AND by AKC on an annual basis. I am also, currently in the process of USDA Licensing as well. This means i will be supported and inspected by 3 different entities. This helps better my program and to better the breed. These standards is what sets me apart from BYB's and Puppy Mills, so please support your ethical breeders and do your research before you buy.


You may also look me up on Facebook as well. Please like my Facebook page and leave us a great 5 Star post if youve ever purchased a puppy from me. ​


I now Genetic Health Test my adults here in my program. I check for HUU, DM, and CMR1. I will be soon adding Cysturnia 3 to my Health Tests too.

Each adult on my Pages will show if they are clear or just a carrier status. Please understand and educate yourself on what a carrier means. Over the years i have found that over 80% of English Bulldogs are in fact a carrier of 1 or more gene.This is a Gene carrier only and does not affect the health of the dog. I strive to pair any carrier adults to NON carrier partners to prevent double affected offspring. For more information and to educate yourself about what these carrier Genes mean, please visit Animal Genetics Website. ​​
NEVER let a carrier only status deter you from purchasing a beautiful, HEALTHY Bulldog Puppy of your choice! ​
If you are ready to place a deposit on one of our available puppies, please go to the deposit page (link above) and read the info provided. Then you can go to the contract page and print out the contract and fill in JUST your buyer part and initial all areas and sign/date the last page then send it back to us along with your deposit. Any questions, please ask.
Some of our Sponsors who support our program and supply our buyers with samples in our kits (when available)
PLEASE READ:
Moving forward, ALL puppies must be AKC registered and microchip registered within 90 days of purchase from us UNLESS we have discussed possible full akc within 6 months. This includes Limited Pet as well as Full AKC. It is YOUR responsibility to fill out and submit your AKC papers. If puppies are left unregistered after 90 days, WE RESERVE THE RIGHT to register your puppy to our kennel, making US the legal registered owners. You may THEN get with us to transfer your puppies AKC papers over to you for a fee which is more than if you'd just register them yourself up front. It is just easier if you PLEASE go and register your puppy soon upon purchase. AND DONT forget your MICROCHIP registration too!!!​ This allows us to be 100% compliant on paperwork